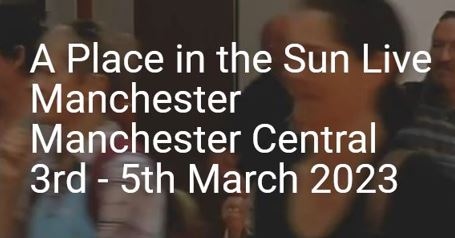 January 17, 2023
A Place In The Sun - Manchester Central 3rd - 5th March 2023, Property News, Whats On - Exhibitions
A Place in the Sun Live Manchester Central 3rd -5th March Tickets on Sale Now!
Thinking of buying a propery abroad? A place in the sun exhibition Manchester 3rd – 5th March 2023 A Place in the Sun Live, tickets are now on sale for the Manchester Central 2023 exhibition:
Join Jasmine Harman and other stars of A Place in the Sun at the official live exhibition of the hit Channel 4 TV show – A Place in the Sun Live!
At A Place in the Sun Live you'll be able to find out everything you need to know about buying a property overseas, all under one roof.
If you've always dreamed of owning your own holiday home or permanent residence abroad, this is the exhibition for you.
Chat to property experts from around the world including Spain, France, Italy, Cyprus, Portugal and more to learn about the best places to buy, legal matters, residency and a whole range of other important topics.
Come along to our next exhibition to watch expert talks across three stages, meet the presenters of the show and even take a screen test to appear on the TV show!
Meet the Presenters
Laura Hamilton
Laura has a passion for buying, selling and renovating property, and she's been presenting A Place in the Sun for more than a decade.
Jonnie Irwin
Property expert Jonnie originally trained as a surveyor and has been involved in the business and property industries for many years.
Jasmine Harman
Jasmine has been making house hunters' dreams come true for more than 15 years whilst presenting A Place in the Sun!
What you can find at the events
Follow A Place in the Sun ☀️:
Facebook: www.facebook.com/aplaceinthesun
Instagram: www.instagram.com/aplaceinthesunofficial
Twitter: www.twitter.com/aplaceinthesun
Linkein: www.linkedin.com/aplaceinthesun
Youtube: www.youtube.com/aplaceinthesun